Today was my "official" last day of class before I start hitting the books for finals. I've been anticipating for this day since the first day of the quarter started, but now it seems so surreal. After my last final is when I can officially relax and enjoy my one week of freedom until I'm tied back to the ol' ball and chain of school life. I've been stressed out all quarter with my minimal sleep, nervous breakdowns and excessive studying. I swear, this has been my most hardest and most stressful quarter since I started the college student life. It will only get harder from here but then I'll be done with my undergraduate studies! Finally! :)
Anyways, on the lighter side. I wanted to post a mini project that I completed a while ago, but never took the time to post it. I only have one picture of it as I gave it away as a gift for a friend.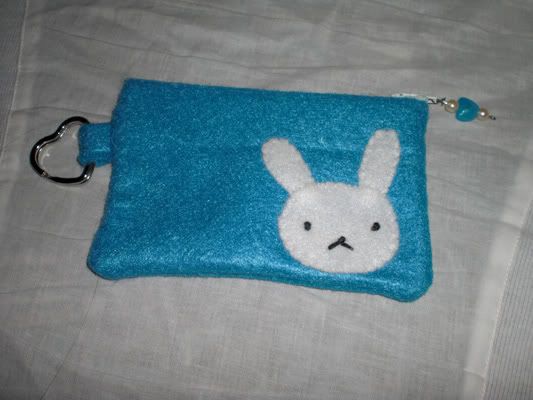 Materials: felt, sewing machine and sewing needle, sew on zippers (I have no idea what they are called but you can buy them at JoAnn's or Walmart), heart key ring, fabric marker to indicate where to sew the eyes and mouth
I got the idea from Arazani Aronzo's Cute Stuff. I swear, this is the cutest step by step craft book I've ever come across. The retail price is $14.99 but you can buy it off
Amazon
for only $10.17! That's a total savings of $4.78 (21%)! I'm totally advertising for them. In reality, you're not really saving much because you have to consider shipping and handling which is $3.99 so technically you're not saving much anyway. However, I highly recommend this book if you're ever bored and want something cute to make. The down side to this is that you need a sewing machine unless you have the patience to sit there and hand sew everything. It makes me smile whenever I flip through the pages.